Discover the Convenience and Care of Health Xpress: A New Medical Center in Spring Valley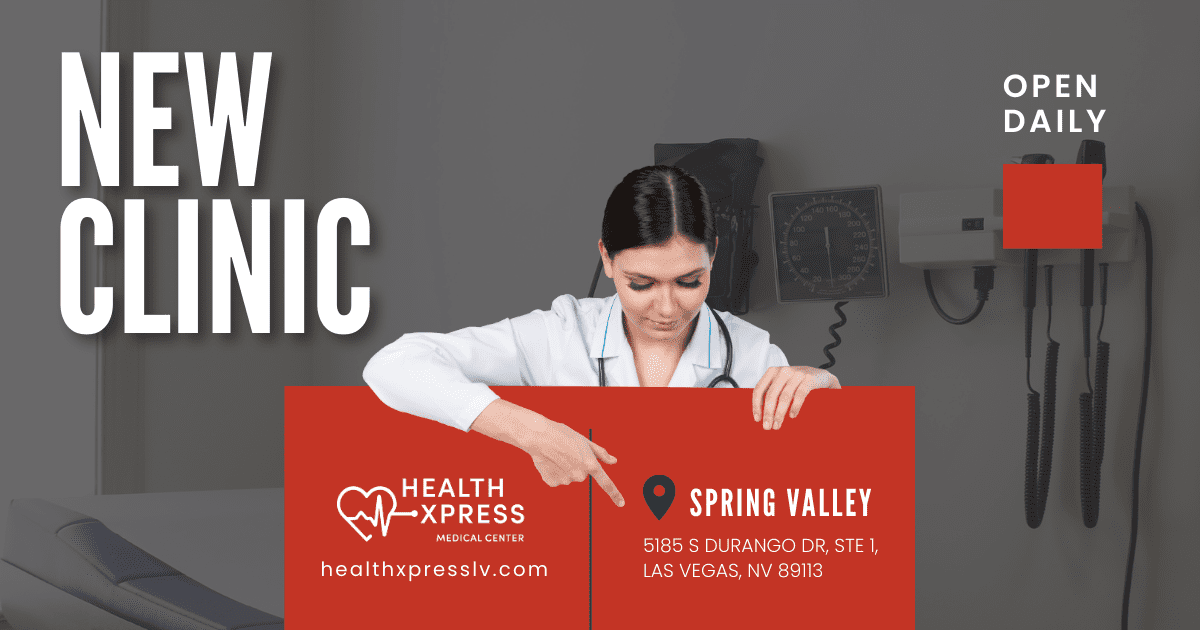 Welcome to Health Xpress, the newest medical center in Spring Valley! We are dedicated to providing convenient and compassionate care for a variety of health needs. From routine visits to specialized services such as IV Hydration and Testosterone Replacement Therapy, our experienced staff is committed to offering superior quality care at an affordable cost.
Our clinic is open seven days a week and staffed with board-certified providers who provide a wide range of services from diagnosis and treatment all the way through recovery with post-treatment follow-up visits. With same-day appointments available, we make it easy for you or your family members to get the timely healthcare they need when they need it most.
With Health Xpress on your side, you know that your well-being is our top priority.
Our new medical clinic in Las Vegas in the heart of Spring Valley
The new medical clinic in Las Vegas is a welcome addition to the community. It is located in the heart of Spring Valley, which is a great location for those who need easy access to quality health care in Las Vegas. The clinic offers a wide range of services, including family care, primary care, and urgent care.
The clinic has been designed with the patient in mind. It features comfortable waiting rooms and exam rooms, as well as on-site laboratory services. The staff is friendly and knowledgeable, and they are always available to answer any questions or address any concerns that patients may have.
The clinic offers a variety of appointment options, including walk-in appointments for those who need urgent care. The staff strives to provide timely care for every patient who walks through the door.
If you're looking for a new medical clinic in Las Vegas, be sure to check out the one in Spring Valley. You won't be disappointed!
At Health Xpress Medical Center, we're dedicated to providing high-quality, personalized medical care with the most cutting-edge technologies available. By continuously evaluating and upgrading our services, we ensure that all patients receive the best treatment for their needs. Our highly experienced staff are just a few of the reasons why patients choose us for their medical care.
Services we offer primary care, urgent care, covid/flu testing, STD testing, telemedicine, weight loss, and IV hydration
At our clinic, we offer a variety of services to help you maintain your health. Our primary care services are designed to provide you with comprehensive care, and our urgent care services are available for when you need care quickly but don't require a trip to the emergency room. In addition, we offer covid/flu testing, STD testing, telemedicine, weight loss, and IV hydration.
Covid/flu testing
Designed to help you stay informed about your risk of infection and get treatment if necessary.
STD testing
Identify any infections you may have and get treatment if needed.
Telemedicine
Allows you to consult with a doctor online without having to leave home. This is a great option for people who are too sick to leave home or who live in a remote area.
Weight loss
Lose weight safely and effectively.
IV hydration
Stay hydrated during times when you're unable to drink enough fluids or add vitamins and minerals to improve overall health.
Same-day Appointments
If you're like many people, you probably hate waiting for appointments. Whether it's for a medical appointment, a haircut, or even a table at your favorite restaurant, waiting for an appointment can feel like it takes forever. And if you're busy, it can be hard to find time to fit a trip to the salon or the provider's office into your schedule.
So if you're ever in a bind and need to see a provider right away, don't hesitate to call or walk into our clinic at 5185 S Durango Dr, Ste 1, Las Vegas, NV 89113 for a same-day appointment. You'll be glad you did!
Health Xpress is committed to providing high-quality, convenient, and compassionate healthcare for all patients. Our board-certified providers are available for same-day appointments, so you can get the care you need when you need it most. Visit our website or call us today to learn more about our services or to book an appointment online.